There are so many things to do on your honeymoon in Bali and that makes it such an exceptionally sought after island. Bali is home to towering volcanoes, vibrant sea life, forever rolling rice fields and exotic jungles, which provide natural beauty and exciting adventures that can be enjoyed in the all-year-long heat. Indonesia is made up of over 17000 islands, with Bali being one of the most magical. Whether you are wanting to put your feet up, relax and sip on a fruity cocktail in paradise, or hit the vibrant town and embark on an exploration, you can do it on your Bali honeymoon itinerary. Being situated just north of the equator ensures a tropical climate, which allows for many things to do on your honeymoon to Bali. So, if you are about to go on your romantic, exotic honeymoon to Bali and Indonesia and don't want to miss out on the very best locations for lovers, creating memories that will last a lifetime, then check out these Top 19 most beautiful places to visit in Bali, Indonesia.
1. Uluwatu Coast
This hotspot is super popular for both honeymoons and holiday makers as its grand cliff sides make for spectacular views and mesmerizing sunsets. The Uluwatu Temple is perched up on one of these cliffs, high above the waves and is best visited at sunset, when you can spectate a Traditional Kecak fire dance. Uluwatu is situated South of Bali, shy away from the central tourist areas, making it a lot quieter and secluded. Even though it is off the main track, it is still home to up market restaurants with exquisite cuisine and luxurious resorts. The beaches in this area are rated amongst the most beautiful on the entire island. When planning your beach days, Impossible, Green Bowl and Suluban beach are our top choices for honeymooners as they are super secluded and romantic. Nearby is another appealing beach called Padang Padang. This beach is famous for its spectacular surf. Take a romantic stroll with your partner or grab yourself a lounger and soak up the sun. Take it up a notch and spend your days being pampered at a beach club such as Single Fin or Ulu Cliffhouse.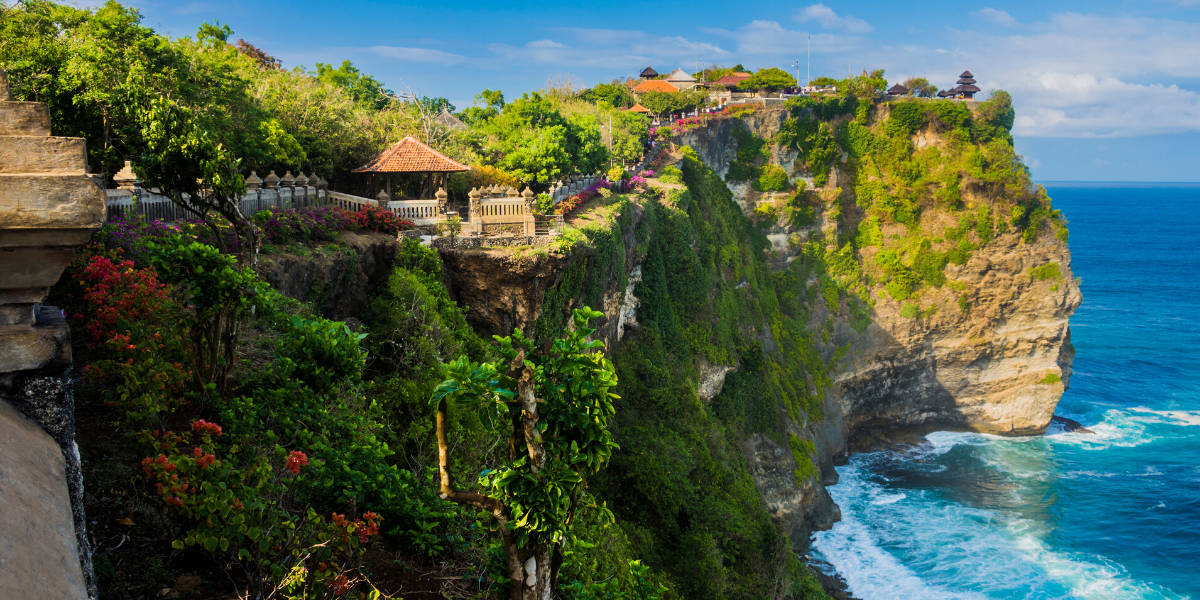 2. Ubud
In the centre of Bali, you will find a spiritual jungle village amongst rolling hills, rice paddy terraces , charming waterfalls and sacred historic temples. Ubud holds a strong spiritual energy and rich culture. The atmosphere is magical and you will find a wide offering of yoga practice, plant based restaurants and adventure. Some activities you can do as a couple are cooking classes, river rafting, Tandem ATV ride, jewellery making workshops and bamboo crafting classes. The Monkey Forest in Ubud is home to thousands of monkeys, where they roam freely, befriending and entertaining tourists. There is a perfect contrast here from the ocean, as you can visit waterfalls or explore the caves of Goa Gaja. Be sure to check out this Heart of Bali Tour to see the very best of Ubud.The Campuhan Ridge Walk is an enchanting path with a peaceful atmosphere and stunning views. The hike is only a few minutes from Ubud. It ́s scenic landscape of lush greenery and vegetation makes you feel inspired and energy boosted. This walk pours down with sunlight and so visiting the location just before sunrise, allows for you to enjoy without being too exposed to the sun and heat.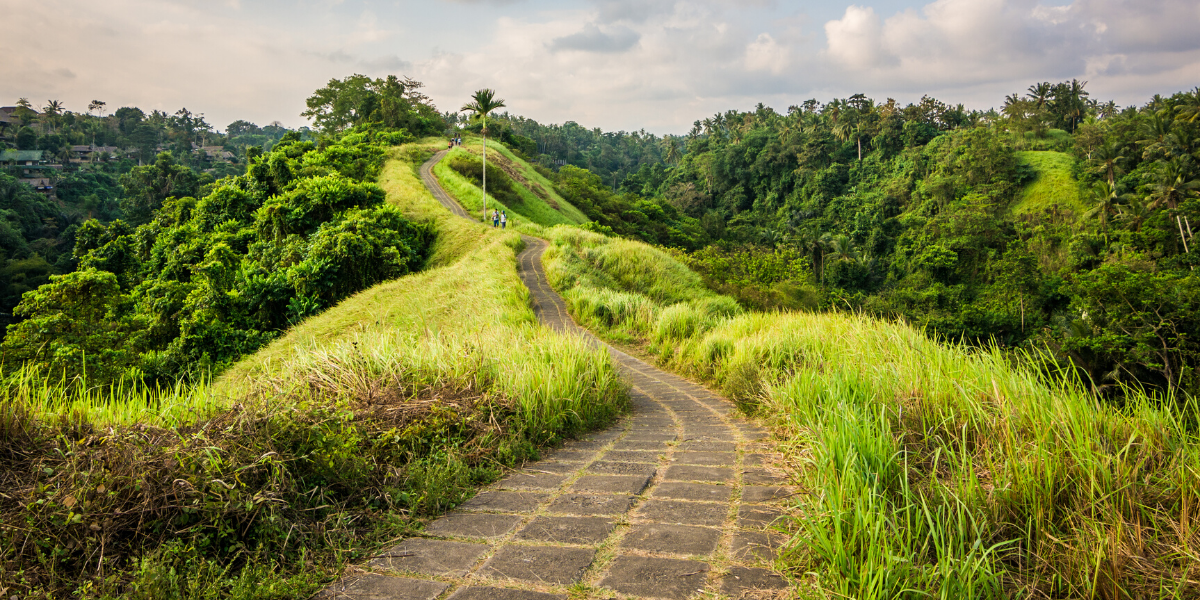 3. Seminyak
Seminyak for Honeymoon in Bali is absolute bliss! This spot is home to tons of sleek hotel bars, high end shopping and 5 star restaurants. This luxurious, upmarket beach resort area is a must, if you are looking to dress up and have a night on the town with your other half. Located on the South West coast of Bali, here you will find the most romantic and relaxing day spas, or chill out at one of the many sophisticated beach clubs. In between sunbathing you can visit Petitenget Temple. This is the central cultural landmark of Seminyak and nearby is a beautiful spot for couples and friends to enjoy the sunset on Petitenget beach.
4. Jimbaran
Jimbaran is a fishing village nearby Kuta, with a much slower pace of life. Here you can savor the moment and lap up the memories in their own time. The golden sand beach front with natural limestone cliff is an exquisite spot for sunset and full of seafood restaurants. A good spot for a panoramic view when the sun goes down is either Rock Bar or Unique Bar at Ayana Resort & Spa. During the day, you and your partner can get active swimming, snorkelling or surfing and in the evening you can indulge in a fresh catch of the day. A Jimbaran Honeymoon would be super relaxing and crazy romantic.
5. Munduk and Bedugul Region
The Munduk Region and Bedugul Region are less popular than other parts of Bali and therefore less touristy. This allows for some quality romantic time with your loved one. The Bali Romantic Escape is a fairy-tale getaway to this area of the island where you will stay in eco-resorts located close to nature and wildlife. The weather here tends to be slightly cooler, which is bliss in the summertime. This remote part of the island is famous for its exquisite waterfalls and windy roads. The Bedugul Region is a mountain Lake resort area near the crater Lake Bratan. Here lies the beautiful Bali Botanic Gardens with over 20,000 species of plants, and an impressive view of the lake. The Pura Ulun Danu Temple is situated on the shores of the lake and is used for offering ceremonies to the Balinese water, lake and river goddess. When the water rises it looks as if the temple is floating on the water. It is in this region, high above the sea level, where strawberries can grow. Here, you are able to visit a strawberry farm where you can pick your own strawberries and order food and drinks with the berries you have picked. How extravagant and personalised.
6. Lake Tamblingan & Lake Buyan
These twin lakes are found in the Munduk Region of Bali within the caldera of Volcano Bedugul which is now extinct. The landscape here is thick, vast and colourful as it makes up the heart of Bali's farming area consisting of rice paddies, coffee plantations and vegetable fields. The lives of those living in the village nearby are dependent on the lakes as they survive by farming, fishing and guiding tourists to some 31 temples on the lake with their dugout canoes. The scenic views, unique landscape and local culture is worth the visit.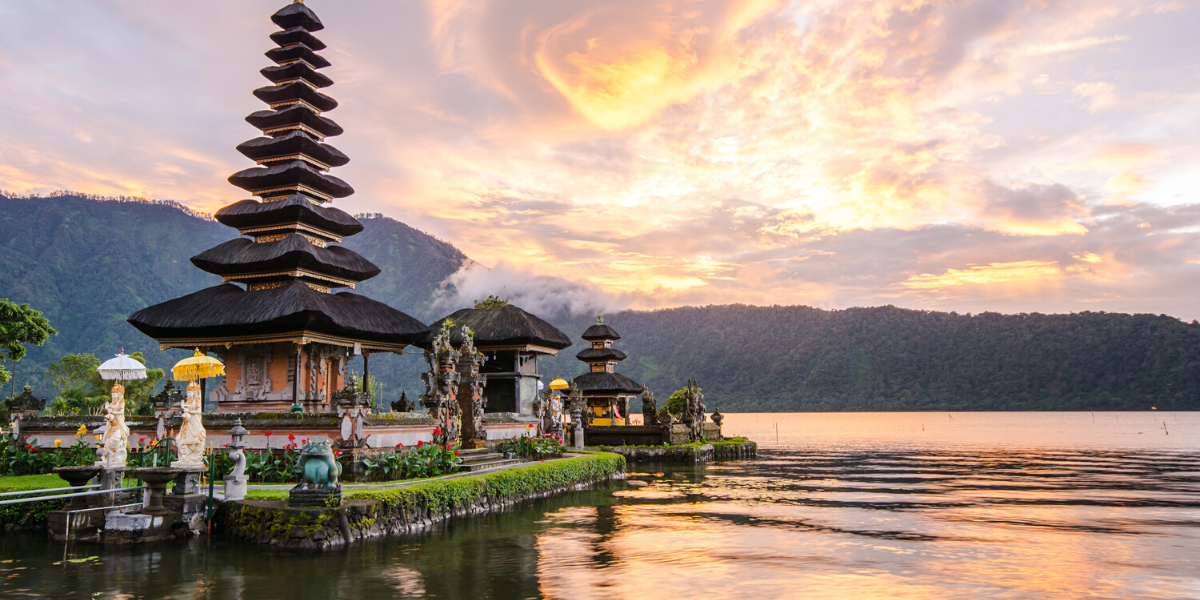 7. Mount Batur
If you are up for an adventure and a memory to last a lifetime, then watch the sunrise from the top of a volcano! Mount Batur boasts the most spectacular panoramic views of Bali and the surrounding islands. The Mount Batur Guided Tour is not for the faint hearted, however the reward at the top is out of this world and will be the highlight of your Bali Honeymoon trip. You will be guided to both Mount Baturs large crater and its three younger craters, in the early hours of the morning for sunrise, viewing the incredible volcanic landscape along the way. If you seek some adventure on your honeymoon, then this tour is a must.
8. Black Sand Beaches
Many people are attracted to white sand beaches because tropical holidays are typically known for this but as I am sure you have heard, Indonesia is home to many gorgeous black sand beaches too. The colour of the sand on these beaches is due to volcanic lava from Bali's most active volcano, Mount Agung. A mineral compound called mica, has an almost shiny component which makes for a stunning sparkle. These beaches are typically found on the east side of the island and the ones we recommend worth visiting are Keramas beach, Amed beach and Tulamben beach.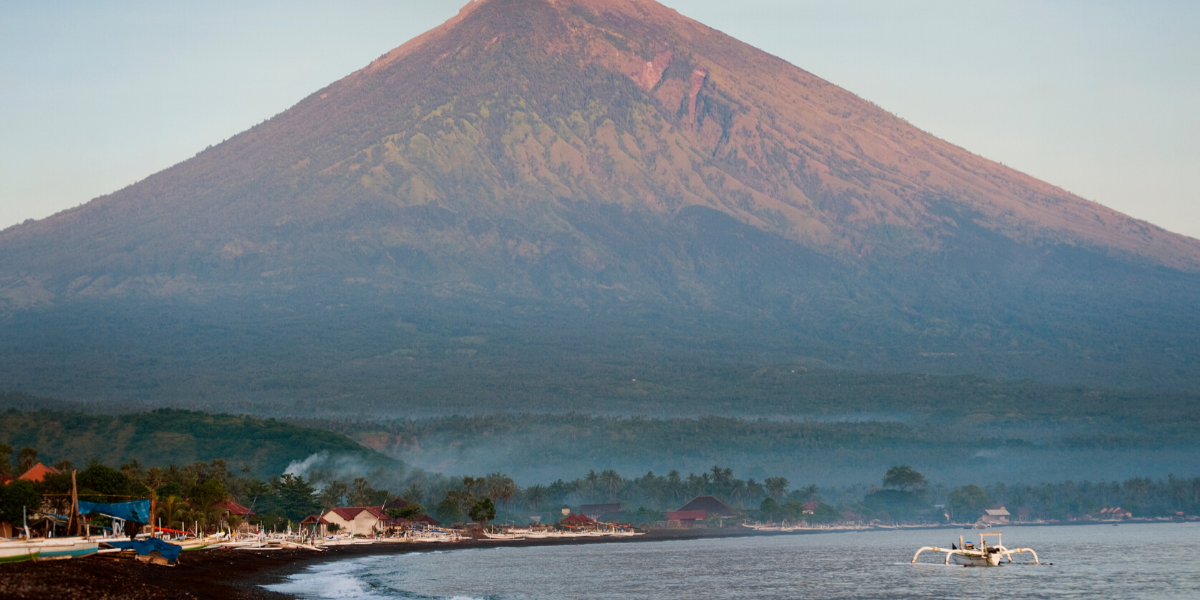 9. Jatiluwih and Tegalalang Rice Fields
Both of these rice fields are the most popular and luscious of them all. What is so fascinating about the layout is that it has been terraced, imperative for perfect irrigation and stunning photography (perfect for us haha). Take your loved one just after sunrise, to avoid crowds of tourists and the blazing heat. Tegalalang is close to Ubud and therefore an easier trip to make. However, if you have the whole day, then we advise you to make your way to Jatiluwih for the ultimate experience. Make sure to pack water and lots of sunscreen.
10. Bali Waterfalls
Waterfalls are mystical wonders of the natural world and have the ability to elicit romance, peace and serenity. Bali and Indonesia are not short of waterfall adventures. Whether you are interested in an easily accessible, short walk or a deep jungle hike, there is a waterfall for your taste. The best waterfalls in the center of Bali are The Tibumana, Leke Leke and the Kanto Lampo Waterfalls. The Tibumana Waterfall is located in the Susut Bangli district, easy to drive to with only a concrete staircase down to a 20metre waterfall drop. The Leke Leke Waterfall is situated in the jungle where quite a bit of natural sunlight is blocked out. It takes a 15 minute walk to get to and is best visited between 12 noon and 1pm for photography purposes. The Kanto Lampo is a fairly new waterfall that only started flowing in 2015. Although the walk down is fairly simple, there are some slippery rocks toward the bottom, which makes the visit a little trickier. During the rainy season, the waterfall may not be accessible.
North of Bali you can find the Aling Aling, Sekumpul and Munduk Waterfalls. The Aling Aling Waterfall is the most exciting of them all. If you are adventurous and craving a little adrenalin rush then your best bet is to hire a guide at the entrance to safely lead you through the area for the best canyoning, cliff jumping and water sliding. Here you can experience cliff jumps of 5m, 10m and 15m. Just 70 kms from Ubud lies the Sekumpul Waterfall. A well marked 45 minute hike to the waterfall from the carpark, makes for a full day out. The Munduk Waterfall is only a 50m walk from the carpark, and so it is super accessible for everyone. There is a stunning pool at the bottom where you can swim. Be sure to visit in the morning, when there are less people around.
11. Tanah Lot Temple
About 30 minutes from Canggu lies Purah Tanah Lot Temple, a very popular site to visit for sunset. This temple is extra special because it sits on a rock offshore the main land which continues to be reshaped over time, depending on the ocean tide. The name "Purah Tanah Lot" means "Land in the Sea" in Balinese and so this temple was built to worship the sea Gods. The best time to visit Tanah Lot is when the sun begins to settle above the horizon and the temple can be seen as a silhouette against the warm glow of the vibrant orange sky. A perfect setting for a newly married couple to intimately enjoy on their honeymoon.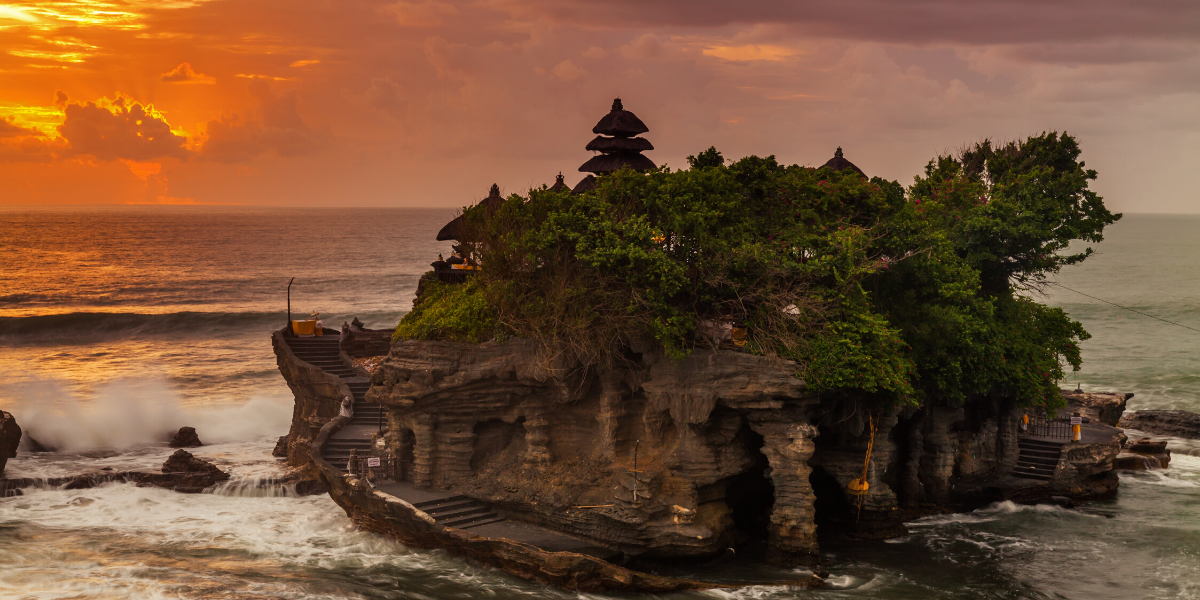 12. Pura Lempuyang Temple
This Hindu temple is located at the slope of Mount Lempuyang, 1175 meters above sea level and has become increasingly popular for its picturesque backdrop by the temple gate, which is known as the "The Gateway to Heaven". It is amongst the oldest temples on the island of Bali and Honeymooners adore taking couple photos at this location. Visiting at sunrise allows you to escape the crowds and avoid the queues for photos. There are 7 temples on the grounds and if you choose to do them all, it will take around 4 hours. The first temple is only a 5 minute hike, however the higher temples are worth the walk.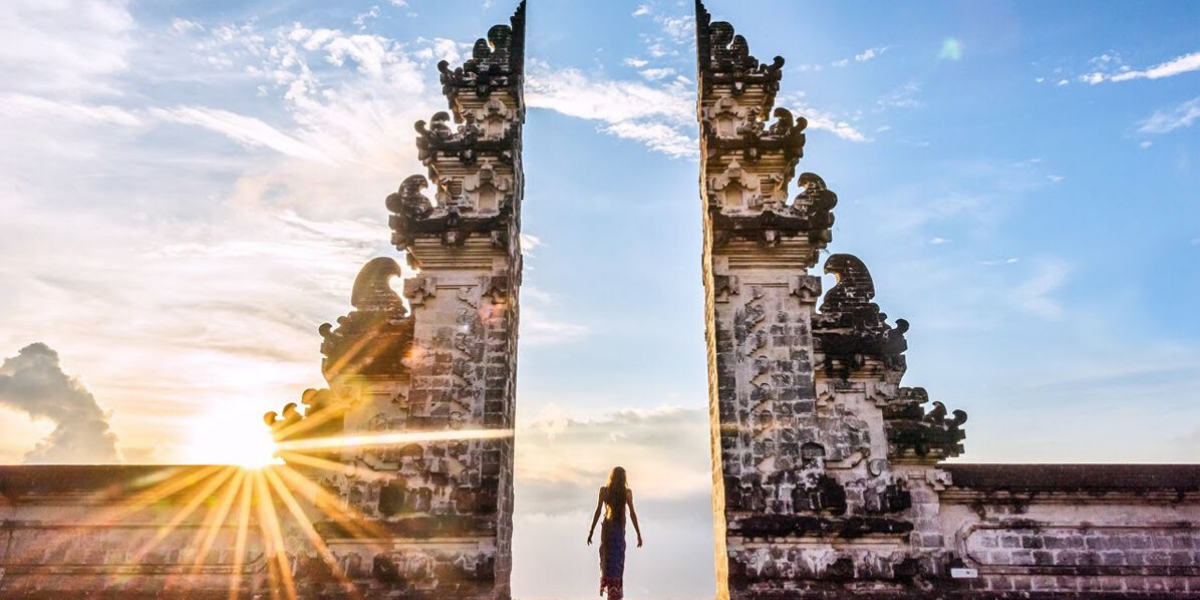 13. Nusa Penida, Nusa Lembongan and Nusa Ceningan
Nusa Penida, Nusa Lembongan and Nusa Ceningan are a trio of islands just off the South East of Bali. They are known for being more peaceful than Bali, as well as being full of thrilling activities. Around a 30 minute boat ride from the Mainland of Bali is the only way to access the Nusa Islands. This means fewer tourists and more time to yourself. Devil's Tears in Nusa Lembongan is crazy beautiful for sunset and has insane tidal pools and limestone cliff jumping spots. If you are up for a little adrenaline rush, then head to the Pura Goa Giri Putri Cave in Nusa Penida. This cave is 300 metres long and 15 metres tall. Crawl through tiny cracks to get to the centre of the cave and be wowed by its vastness. Going diving in Nusa penida and exploring the marine life is magical. Manta Point at the South West corner introduces you to Manta Rays, which are an extraordinary site. Nusa Ceningan is more for the adrenaline seekers. Mahana point boasts a 5m and 10m cliff jump and Blue Lagoon is said to have the most crystal blue water some have ever seen. Crystal bay is a stunning beach situated on Nusa Penida Island. The tranquility and natural beauty here can be paired with adventure activities such as snorkelling and diving. This combination of amusement and serenity makes for a balanced and exciting celebrative honeymoon or holiday. Close by to Crystal Bay is a breathtaking waterfall, ideal for taking phenomenal photos and basking in bliss. This dreamy location of Peguyangan Waterfall sits on the South East coast of Nusa Penida Island. A blue staircase, which is a tiny workout, guides you down to the sacred temple in 20 minutes where you can enjoy the scattered shrines, trinkets and rock pools. A local warung at the top of the stairs is nice for a quick bite before or after your hike.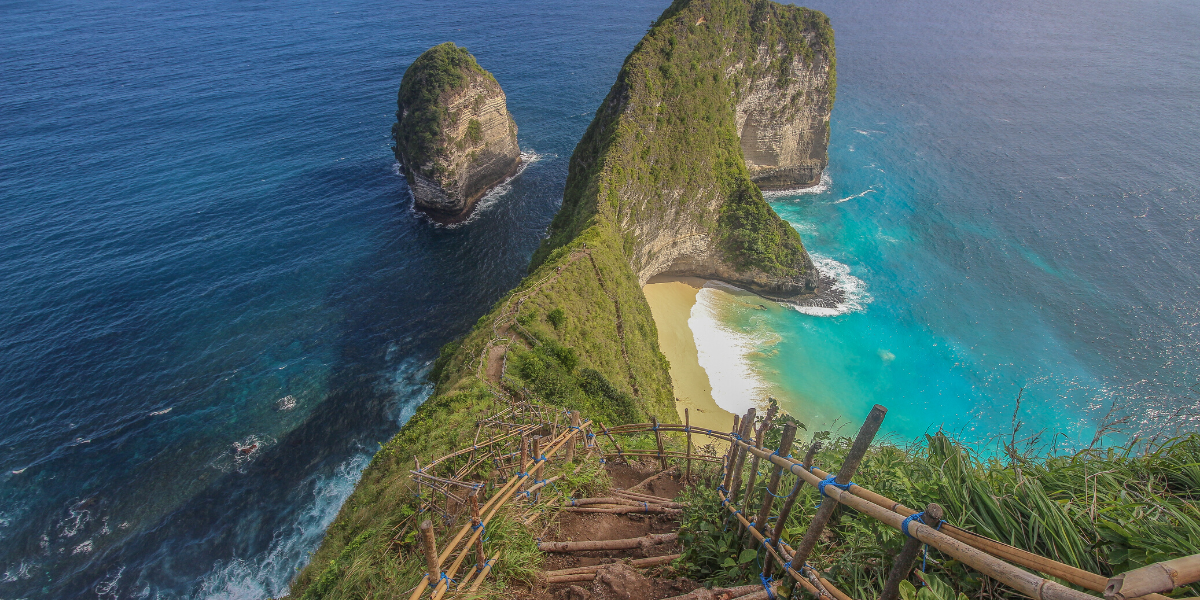 14. Gili Islands
When you are building your Indonesia itinerary, Gili Islands should definitely be on the list. The magical dreamy atmosphere is a peaceful paradise of note. Only horses and bicycles are allowed on the island for transport, which keeps the sound of nature present and alive and you and your partner in peace. The Gili Islands are made up of three islands (similar to the Nusa Islands). Gili Tarawanga, Gili Meno and Gili Air. Gili Tarawanga is the most popular and has a large nightlife scene. Gili Meno is very quiet for those who want absolute tranquility. Gili Air is our favourite because it is a perfect mix between Gili Tarawangas entertainment and Gili Menos relaxed atmosphere. Check out our honeymoon packages and we can tailor your tour to include Gili Meno as this is the ultimate way to experience the island. The sunsets from this part of Bali are by far the most magical that you will ever see. Be sure to make time to swim with turtles at Turtle Point. They have a calm, placid nature and are not frightened by the tourists.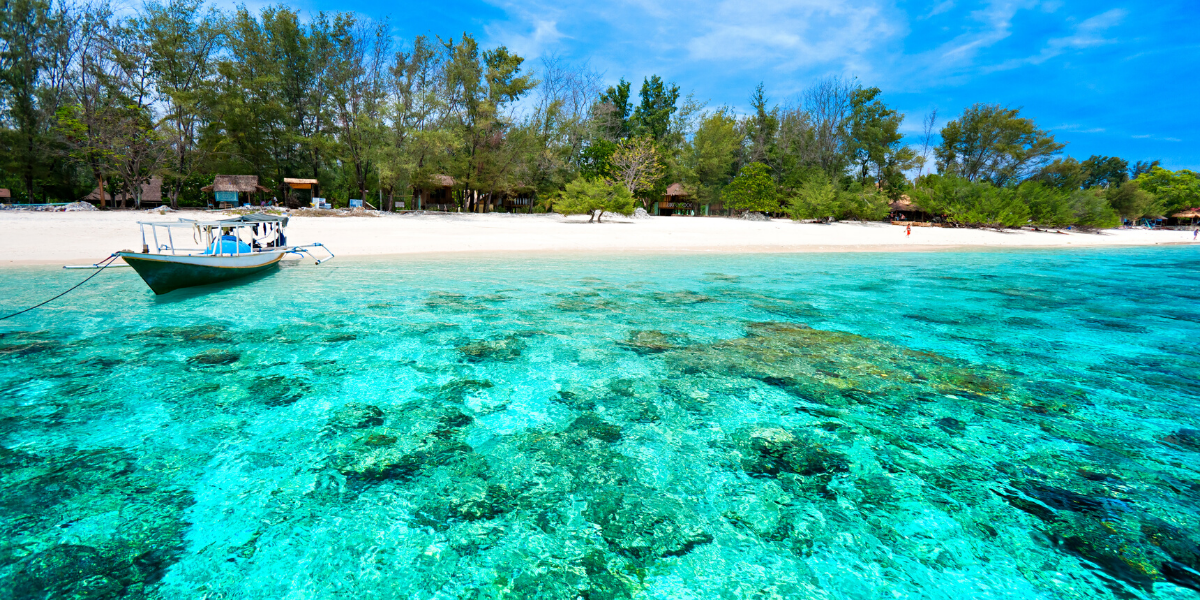 15. Menjangan Island
Just North of Pemuteran, Menjangan Island is waiting. This small, remote island makes up part of the West Bali National Park and can only be visited by boat. This secluded place will ensure you and your partner much needed intimacy and romance. Diving and snorkeling is recommended around the island, as the visibility is exceptional all year round. Menjangan Island is home to the rare Rusan Deer and plenty of fauna and flora. Make sure to check out the number of shrines scattered around the island in your free time. To see the very best of this island and West Bali National Park, do it over a 3 day tour
16. Komodo Island
When it comes to honeymoon destinations near Bali, this island is far East of Bali and is perfectly remote for those seeking seclusion. It can be visited by taking an aeroplane to Labuan Bajo and then a boat to Komodo Island from there. As the name suggests,it is home to the world's largest lizard, the komodo dragon.. These lizards can grow to a maximum of 3m´s and weigh up to 70kgs. Popular for its rich marine life, diving is a must. It's lush greenery, white sands, dry savannah and clear blue waters are some of the many attractions that draw tourists to the island. Apart from komodo dragons, you will be sure to spot dolphins, deer and sea turtles. One of the most charming, fairy-tale spots on the island is the pink sand beach in East Nusa Tenggara. The sand is pink because of the mixture of white and red sand, formed from pieces of foraminifera. A perfect place to take some impressive photographs. This 13 day / 12 night tropical adventure, might be exactly what you are searching for.
17. Sumatra
Sumatra is the 6th largest island in the world and makes up part of the Sunda Islands. It's tropical climate makes it home to a wide range of animal and plant species. Sumatra is popular for its wildlife, smoking volcanoes and natural beauty. Some activities that you may enjoy are orangutan hiking through Bukit Lawang, swimming through the canyons and tasting the Sumatran native delicacies. Some other endangered inhabitants on the island are the Sumatran tiger, Sumatran Rhinoceros and the Sumatran Elephant. Lake Toba, situated in the mid North part of the island, is a thrill to visit, as it is situated in the caldera of a supervolcano. This area is a little too far from the locals which makes it secluded and peaceful for you and your partner to unwind and enjoy.
18. Jomblang Cave in Java
If you are wanting to visit a worthwhile honeymoon destination near Bali then head to Java, as they have a spectacular site here called the Jomblang Cave. The cave was naturally created when the soil and vegetation above crumbled thousands of years ago. This thrilling adventure is a once in a lifetime opportunity, however beware if you have a fear of heights. You need to get to the site early in the morning as it has limited access of 75 people per day. When you arrive you will enter the cave through a sinkhole that is 50 meters deep. You are dropped down by a rope onto an exquisitely ancient forest floor. You then enter a 7 meter wide tunnel that takes you 250 meters to the roof of Grubug Cave which is the peak spot of the location, where sunlight pours through, making for a splendid view.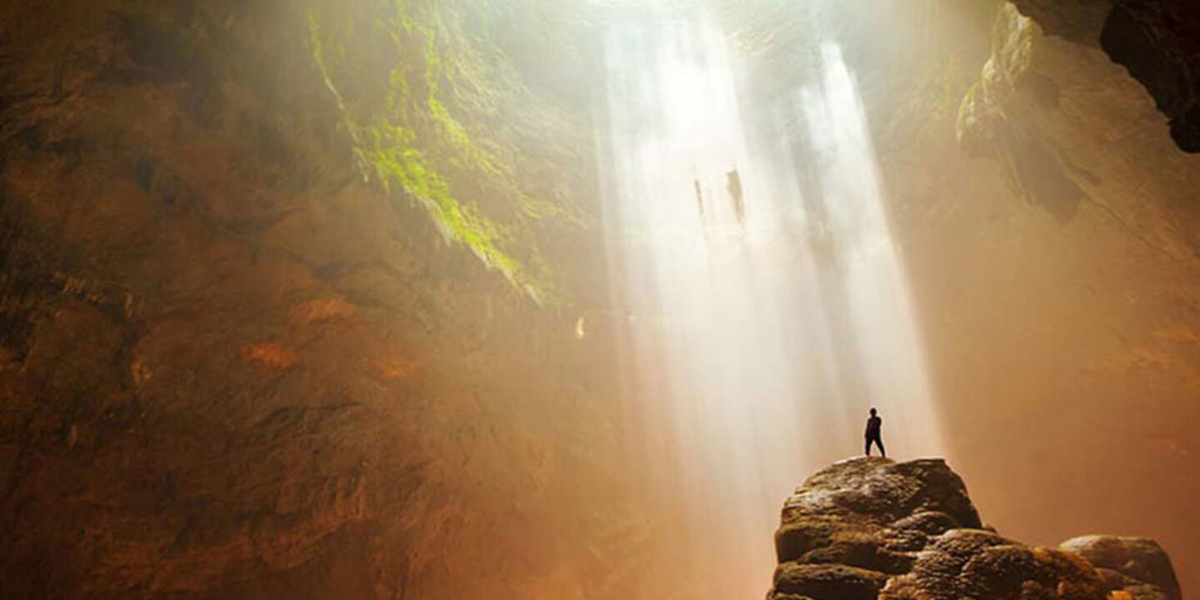 19. Sunrise on Borobudur Temple in Java
Borobudur Temple can be found in North Yogyakarta in Java and is known as the biggest and oldest Buddhist temple in the world. Apparently this architectural wander took over 100 years to build in the 7th and 8th century and after many restorations, has come to be a breathtaking location to view the sunrise in Indonesia.There are 9 levels, however the top 3 are the most famous as you can see the buddha sitting comfortably when you look through one of the holes on the side of the bell-looking stupa. Visiting early is key to avoiding mass crowds and seeing this monument at its very best.