Indonesia is possibly the most diverse and amazing place on the planet. It is a country of beautiful beaches, breathtaking views, incredible volcanoes, inspiring wildlife and exquisite food. Have you ever wanted to come face to face with a Komodo dragon? Witness blue lava gushing from an active volcano? Stand on top of the largest Buddhist temple in the world? Or enjoy some of the best diving and snorkeling in an underwater wonderland? In Indonesia you can do all of this and much more with our Indonesia holiday packages and tours.
Here at The Seven Holiday we specialize in bringing the best of Indonesia to you; our custom made
holiday packages to
Indonesia
ensure that you can experience all the wonders of this magical country safely and with expert local guides. Come and see our large selection of great
exotic tours in Indonesia
and start your very own journey with us today!
Gili islands and Lombok Tours
Other Exotic Tours
Discover Holiday Packages to Indonesia
What does the term 'exotic' mean to you? Is it the waves lapping against the shore of a palm tree fringed white sand beach? Is it lost temples in the steamy jungle, or is it the taste of something you have never experienced before? Whatever it is, you can be sure to find it here in Indonesia. Think of the lush hidden waterfalls, the beautiful beaches, the emerald rice paddies, mystical temples and majestic volcanoes. All of this and much more sets Indonesia apart as one of the most incredible and most exotic places to travel to on planet earth.
Exotic tours in Indonesia is one of the specializations offered by The Seven Holiday. It provides everything an Indonesia tour package should and much more. You will get the opportunity to jump from waterfalls, trek through unexplored jungle, and even climb active volcanoes. You can get up close and personal with exotic animals, and visit temples lost in time. Curious? Let's take a closer look at some amazing Exotic Indonesia destinations and tours.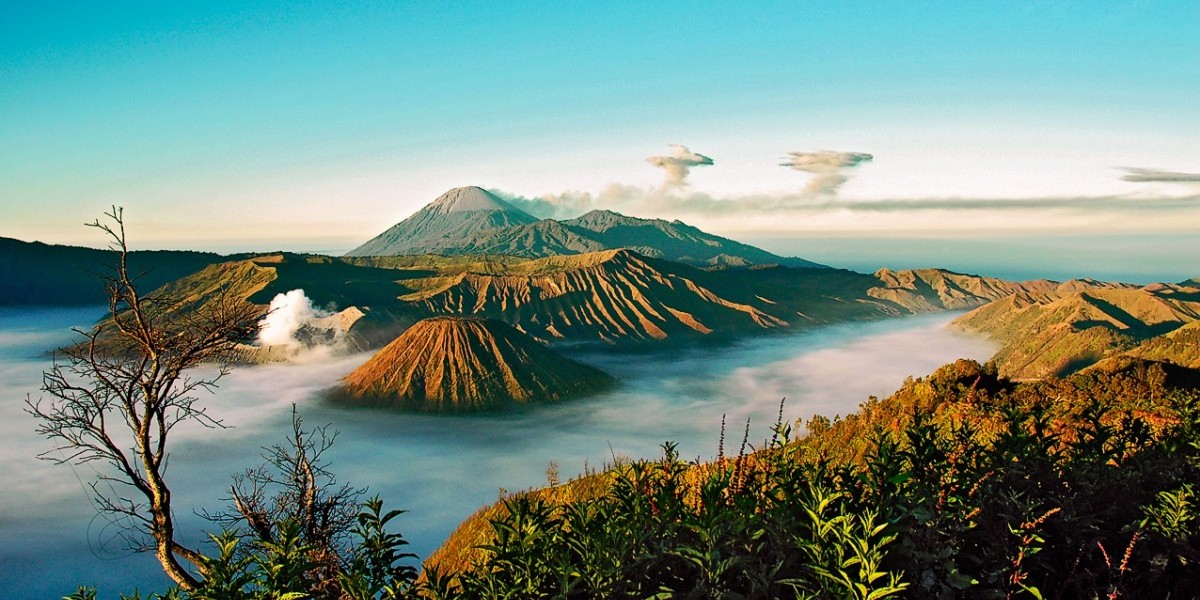 Gorgeous Java tours
The island of Java may be the richest island in all of Indonesia when it comes down to significant cultural, natural and historical points of interest, attracting thousands of travelers every year. You can easily book a flight to the capital of Indonesia, Jakarta, and let your adventure start from there. Jakarta is a big city with not so many interesting things to see but it makes a great starting point from where you can explore the rest of this rich, exotic island. Whilst Central and East Java may have more famous natural attractions and temples, West Java also has a lot to offer. Like Bandung, a big city like Jakarta, but this city has produced many famous artists and musicians overtime that are loved in all of Indonesia. Around Bandung, there are beautiful, less touristic natural attractions to explore such as the floating market of Lembang, the volcano Tangkuban Perahu and Kawah Putih and the natural hot springs Ciater.
Bogor, a town close to Jakarta, is home to beautiful botanical gardens. There are great national parks to visit such as Ujung Kulon and Pangandaran is a much-loved beach destinations where you can swim, surf and relax to the max. The train ride from Bandung to the cultural city of Yogyakarta in Central Java is a real treat for the eyes, driving right through the island's beautiful untouched landscape. Yogyakarta is a colorful, lively student city and it is surrounded by tons of natural attractions including one of the 7 world wonders: the magnificent and enchanting Borobudur Temple - a magical place you must have visited once in this lifetime!
Apart from that, there is the Prambanan Temple complex to visit and how about a cave adventure where you will descend deep down into the Jomblang Cave and traveling underground to Grubug Cave, hidden away in the dense tropical forest? This, together with endless waterfalls and rivers, volcanoes, beaches and even more temples gave this area of Java a name of it's own ''The Special Region of Yogyakarta'. Another highlight of Central Java is the ancient historical site Dieng Plateau, a group of temples dating back to the 7th century.
Further east await more sprawling cities such as Surabaya and Malang but the most famous places of interest in East Java are the volcanoes Bromo and Ijen. Sunrises at Mount Bromo are breathtaking and Mount Ijen has a blue fire burning in the crater that you can only admire from the summit. Travelers who love culture and nature as well as outdoor adventurists can easily lose their hearts to Java Island, featuring multiple Unesco heritage sites, interesting cultural cities with visible colonial pasts and the most impressive active volcanoes imaginable.
With our exotic tours and holiday packages to Indonesia and Java, you can be taken on an exciting guided journey to see all of the highlights in the Kingdom of Java. Choose between 1 day, 2 days or 3 days tours, ranging from a full island temple tour to watching the sunrise at Mount Bromo or Borobudur, to a full 3-day trip to explore everything there is to admire in the Special Region of Yogyakarta. Mix and match and get ready to fall in love with Java. See our signature exotic tours in Java down below.
Wild Nature Komodo & Flores Tours
Flores, part of the Nusa Tenggara island group east of Bali, is also an amazingly exotic holiday destination and it is the only place in the whole wide world where you can see the giant komodo dragons roaming around in their natural habitat on Komodo and Rinca Island.
To get to Komodo Island, you will need to take a 4 days-3-nights boat trip from Lombok, which can be quite challenging. Or, you can fly to Labuan Bajo, a town in the eastern tip of Flores and the main gateway to get to Komodo Island. You will still need to hop on a boat but from here, it takes hours instead of days. The boat trip is actually wonderful, taking you across the deep blue ocean through a fairytale landscape of lush green little islands of which most are uninhabited. Once arrived at Komodo Island, you will make a hike through the raw untouched landscape, seeing these huge lizards from up close.
One-day boat trips will take you to Rinca Island afterwards, the larger sister of Komodo Island where there are less komodo dragons, but they are more wild and less used to tourists. You can also go on a one-night or two-night boat tour to see some more amazing things in this part of exotic Indonesia. How about sleeping on deck, watching hundreds of bats fly over during sunset time and then allowing yourself to be enchanted by thousands of sparkling lights in the starry night sky, enchanting you to the bone! The next day you will sail to Pink Beach and experience snorkeling with manta rays - another magical wildlife experience that you are bound to love. Back in Labuan Bajo, you can visit the mirror cave Batu Cermin filled with stalactites and stalagmites. As the light shines in through a hole in the cave, a spectacular show of nature takes place, truly enchanting to see!
Another definite highlight of Flores is Mount Kelimutu where you can see the stunning three-coloured lakes in the crater of the volcano. The lakes mystically change colours from red to brown, black, turquoise, green, blue and white, depending on the activity of the volcano. It is a mystical natural occurring phenomenon that was lead to many myths and speculations over time.
Have a look at our most booked Komodo & Flores tours.
Colourful Exotic Tours in Indonesia
Of course, exotic Indonesia, as big as it is with more than 17,000 islands in total, has still got a whole lot more to offer. How about a trip taking you back in time to far-away villages where the local tribes still live primitively, uniquely and beautifully like in Papua or Sulawesi? Or venture out deep into the deep jungle of Kalimantan? You will make a river cruise through the rainforest and get up close and personal with to the most amazing creatures of the forest: the orang utang? Don't want to stray too far away from Bali and civilization? Go for the Gili Island tour, these little gems are much-loved holiday destinations among travelers all over the world because they are beautiful, surrounded by crystal clear snorkeling waters and utterly peaceful due to the fact that there are no motorbikes or cars allowed on the island - only horse cards and bicycles. A wonderful break from the daily hustle and bustle and you can even swim with turtles!
Get more information about these exotic tours in Indonesia here.
Tour Inclusions
Get your flight tickets booked and we will take it from there! Our holiday packages to Indonesia are fully inclusive of entrance fees, air-conditioned transport, guides, donations, meals, mineral water and overnight stays if applicable. You are in for a hassle-free holiday where you can just relax, soak up the exotic ambiance and be amazed by the extraordinary beauty of Indonesia.
What we offer
The Seven Holiday is located in Indonesia, unlike other companies with offices in countries far away, we stay close to the source. Our team is one of a kind with a perfect mix of locals and westerners who are passionate about Indonesia and about traveling. Over the years we gained a mountain of experience and tons of reviews from happy holidayers. To read them, take a look here.
We believe that the secret to our success lies in our personal approach. To us, no traveler is the same and therefore no holiday should be the same. An Indonesia adventure tour should be fun, informative, and above all, cater to what you, the client, wants. We offer signature packages but all our them can be tailor-made to suit you personally, creating the holiday you have been dreaming of. Our knowledge of this exotic holiday destination is abundant and it is through our connections that we can offer all-inclusive Indonesia holiday packages, tours and trips at local prices that are hard to beat.
Our expert team goes out of their way to make each and every one of our tours special, memorable, and above all unique to our clients. During your holiday, your personal travel expert of The Seven Holiday will be in touch with you 24/7 to assist and help where needed. We will also provide you with a handy welcome kit to kick-start your travels. Inside, you will find basic necessities such as sunblock, mosquito repellent, motion sickness pills, organic shampoo and more.
Take a look at our signature Indonesia holiday packages to get ideas and inspirations for your holiday to Indonesia and feel free to Send us an inquiry. We are happy to help and give advice!