The time has come when the wedding plans are finally in order and you have begun the search to find the best villa in Bali for your honeymoon. You are ultimately looking for a combination of comfort, style and luxury and are determined to find somewhere that lives up to its pictures online. The Seven Holiday has local knowledge of Bali's romantic villas and can point you in the right direction. Whether you are wanting an ocean side experience or a jungle escape, Bali has heavenly, first-class accommodation to suit your needs. The greatest part is the price range and the array of villas to choose from, which are extensive. You can filter your villa search according to personal budget, and the beauty is that most villas come with housekeeping staff, security, private pools, and a chef. A recent shift in holiday accomodation preferences has caused an increase in honeymooners choosing to stay in villas over hotel resorts.
Why choose a Villa over a Hotel Resort?
Resort hotels are still very popular amongst honeymooners and families because of the free activities and amenities available within the establishment, however, villas are on fire this year for these 3 reasons:
Space
A hotel room is usually limited to a studio style bedroom with a bathroom and balcony, whereas villas can have anywhere from 2 bedrooms up with a lounge, tv area, and a private pool. Some villas even have their own gyms and BBQ areas.
Privacy
When embarking on your honeymoon, you want to be assured that your accommodation is private and quiet allowing you to unwind, relax and enjoy quality time with your loved one. In resorts, most facilities such as the pool are shared spaces which can allow for many disturbances.
Unique personal touch.
Villas are uniquely styled , which makes for an atmosphere that is extremely different from the rigid, ordinary style of a hotel room.
We have made finding the perfect villa for your Honeymoon in paradise easy by highing 7 of our favourite villas on the island of Bali:
Hanging Gardens
Deep in the jungle of Bali you will be blown away by this hidden, romantic gem. The world's first 7 star luxury boutique retreat is home to 44 privately set apart thatched villas and guarantees a stay fit for kings and queens. Built in the tropics of the Bali rainforest, this peaceful haven looks over the Ayung river, near to the Dalem Segara Temple. The villas are surrounded by coffee trees, cacao plantations, bamboo, rice fields and orchids. The villas have a contemporary Balinese style interior consisting of a private plunge pool, private balcony with gazebo, aircon and wifi. En suite bathrooms consist of shower / tub combos. The inhouse day spa is popular amongst guests and has a wide range of treatments available, executed by top quality staff. These treatments aim to energize and soothe the body and soul. Because these villas are a part of a larger resort, activities such as a floating breakfast, gourmet picnic, cooking class, high tea, mountain biking or an indulgent spa day are on offer. The remote Three Elements Restaurant nearby on the rivers edge boasts breathtaking views. Enjoy a decadent tasting experience here at sunset and let the night carry through with candle light. Local, sustainable ingredients are used in every tasty dish.
Kupu Kupu Barong Villas
On the remote slopes of Mount Agung, you will find this magical accommodation comprised of 39 luxurious villas. The Balinese style interior incorporates local fabric, redwood walls and thatched roofs overlooking the Ayung river valley and rice rice paddy fields. Supreme villas come with plunge pools, timber sun terraces and lounging pavilions. Expect to be spoilt and pampered by the villa staff. When it comes to meal time, the Kupu Kupu Barong will not disappoint. The La View restaurants offers next - level gourmet cuisine combining french and south east asian influence. Another option to consider, is the exclusive and intimate couple dining experience where you can choose from numerous fairy-tale locations to dine at, such as the bird nest or gazebo. If you crave a good start to your day, then indulge in a romantic floating or picnic style breakfast, ordered to your villa. The magical Day Spa above a Mango Tree, which is fragranced by L'Occitane, will make you feel as if you are in Provence. Take an adventure and embark on a butterfly concierge tour or be energised by a tranquil, sunrise yoga session.
Uma Sapna Villa (Seminyak)
This contemporary style private villa complex is nestled in the center of Seminyak close to nightlife, high-end boutique shopping, sleep beach clubs and top quality restaurants. Uma Sapna comprises of 24 tasteful, private villas, each with a private terrace and private pool. The building has a modern, open plan design made of light toned tiles and white-washed wood. These villas are baby and family friendly as the villa provides a pool fence for safety and high chairs, so that parents can travel lightly. Another incredible service offered here is 24 hour babysitting for those times that you may need quality, relaxing moments with your partner out on a dinner date, shopping the high streets, or simply relaxing by the villa pool. Relish in the wellness spa with a tailored holistic spa treatment to feel energised and restored. This peaceful sanctuary offers a wide range of massage and beauty treatments for all. If you would like to keep active on your holiday and stick to your routine, then you can be happy to find out this villa has an inhouse gym consisting of free-weight, cardio and suspension training equipment. If you are looking to stay in this area, then look no further because these are by far the best honeymoon villas in Seminyak.
Amora Boutique Villas (Ubud)
The honeymoon villa in Ubud that will blow you and your partner away is this 50 Acre plot of land, which holds 15 remarkable villas, designed to impress. The temple shaped building is the main spectacle of the property aimed to elicit inspiration and holiness for guests when they enter. Built above the Bukit Cinta, also known as the "Love Hills", which is a rich and abundant bush area for hiking, the Amora Ubud boutique Villas are said to be a Honeymoon fairy-tale location. On request, the staff have a special offer for honeymooners. Decorating your villa with flowers and candle light and turning the space into a romantic location for an intimate dinner for 2 , is what they do best. If you would like to partake in some interesting activities nearby, be sure to get your palms read or learn how to cook like a Balinese professional, using local produce, spices and herbs. The dishes you will cook are local. Be sure to get a grasp on how to prepare chili and peanut sauces to perfection. With a spa and meditation centre, you find yourself being transported to a land of relaxation and total rejuvenation. This Honeymoon Villa in Bali will not disappoint.
The Edge Bali (Uluwatu)
The best private villa for honeymoon in Bali has to be here. A one of a kind, extremely remote and exclusive villa resort at the very southern point of Bali is appropriately named - The Edge. Hanging high above the Uluwatu cliffs, lies 8 ocean view, luxury style villas run by their well trained 24 hour butler staff, attending to all your needs at any moment. These secluded villas are uniquely styled and each has its own private plunge pool. The Edge group prides themselves on their consistently exceptional service, ultimate privacy and sincere desire to ensure their guests are well looked after. This blissful spot offers appealing inhouse entertainment, such as bowling, karaoke and a pool table. Other amenities one can enjoy are a gym, spa, steam room, pool, wine tasting lounge, theatre and for parents - a babysitting service. A complimentary beach shuttle will take you down to the closest (20 minutes away) most picturesque white sand beaches for a day out in the sun. At the edge, the staff will make you feel comfortable and at ease. No request is too big for this team. The most luxurious honeymoon package includes a 4 night stay here.
Ayana Resort Villas (Jimbaran)
If you desire the best of both worlds then make sure to book the ultimate romantic honeymoon stay at this breath-taking villa resort nestled on the top of a cliff. With sunsets to die for, relax in one of these 78 private villas, for absolute pleasure. Each villa has its own private pool and is enriched with indigenous artwork and lavish linens. When you enter the lobby, you will be amazed by the appearance of the floor to be "floating". The popular and well-known "Rock Bar" is 14 meters above the ocean serving deliciously mixed cocktails and mediterranean cuisine. The 2017 Forbes Travel Guide announced its review of 5 stars to this haven, which is an incredibly prestigious and trustworthy source of critique and evaluation. Cooling down is simple due to the 12 swimming pools scattered around the resort. The Ocean beach pool is recommended as the one to visit first. When trying to spoil your partner, the villa resort offers an exclusive beach picnic or a Batik painting class. But the ultimate romance is having breakfast discreetly delivered to your private villa. Some fun activities to partake in are the Muay thai lessons, Hindu offering demonstration, and the aqua Zumba classes. Because this villa resort has so much space, 12 boutique stores such as Billabong, Kahuna Surf Kids, and Billabong are available to browse in the Ayana Shopping Arcade. Even a hair salon is amongst these stores. So if you are looking for a secluded villa connected to the ultimate resort, this could be the best private villa in Bali for your Honeymoon.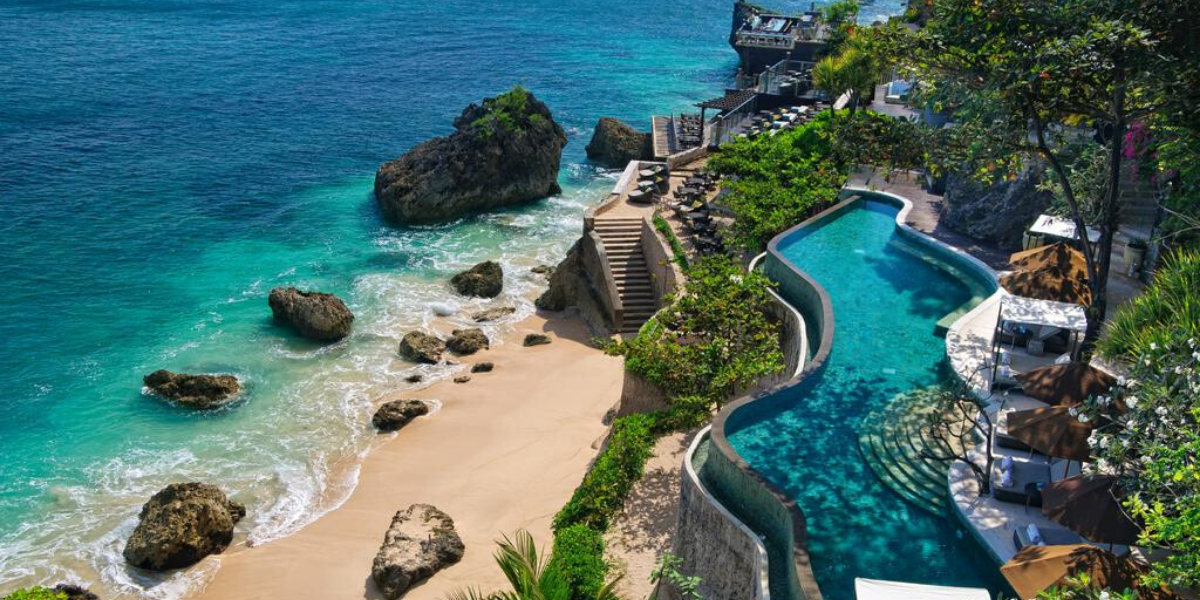 Alila Villa (Uluwatu)
What we love about all Alila Villas, including Alila Uluwatu, is its strong responsible travel commitment, which focuses on social, cultural and environmental sustainability and support. The villa resort gives back to the local community through 2 non-profit foundations and the actual buildings architecture and design has incorporated waste water management systems, local plants and local materials in the construction process. With its modern, seamless layout, these privately terraced villas are not short on space or luxury. The early morning yoga class will refresh and energise you for the day, so that you can go on to enjoy the activities you have planned. Another high above the cliffs style accommodation offering an "almost" over the edge spa massage to calm and rejuvenate your muscles. The sunset Cabana bar is popular for its artisanal cocktails and unbelievable view of the Bali sunset, every single night. The inhouse warung offers the best of Indonesia style dishes.
With an abundance of villa options available, you should be excited to start making some important decisions about the places to visit in Bali, the activities to book and of course which accomodation is suited to your needs. With the wedding coming first, organising and planning the honeymoon should be simple and stress free. We recommend contacting our professional and friendly Travel Experts, who can help you tailor your holiday to perfection, ensuring the ultimate service and quality you deserve on the most important vacation of your life.