The island of Bali is host to some of the most spectacular geographical landscapes and scenery. It is best known for its forested volcanic mountains, lush green rice paddies, stunning pure white sand and black volcanic sand beaches surrounded by fabulous ocean and coral reefs. Many visitors coming to Bali for the first time end up returning time and again to explore all the amazing delights that the island has to offer.
A brief history of Mount Batur
One of these delights is Mount Batur (Gunung Batur). It is an active volcano located at the centre of two craters (known as calderas) north west of Mount Agung. The southeast side of the larger crater contains a caldera lake called Lake Batur. At one point in history, these two fascinating craters would have been home to what is called a 'Magma chamber' filled with molten rock. The lava would have found its way to the surface and caused an eruption, creating the crater like depression that we see today. It is mind blowing to see first hand the power of mother nature and the beauty of what is left behind after all of these fascinating natural events. The peak of Mount Batur sits at 1,717 metre (5,633 ft) above sea level. At one time Mount Batur rose about 3,800 metres above sea level which made it higher than it's neighbor Mount Agung that sits at 3,142 metres / 10,308 feet). From the summit you can see unbelievable views of Lake Batur, deep black lava from the last eruption and amazing views of the surrounding mountains. On a clear day you can even see the neighboring island of Lombok.
Mount Batur as sacred
Mount Batur is still an active volcano with the first documented eruption in 1804 and the last eruption was in 2000 when ash emissions reached a height of 300 metres above the summit. This makes it all the more exciting to visit as it really feels alive. It truly is a special place for visitors and residents alike. Mount Batur itself is considered sacred as it is important for the source of groundwater and rivers as well as the fertility of the soil helping farmers to grow crops and maintain their livelihoods.
The area of Kintamani
Mount Batur sits in a stunning part of Bali called Kintamani. The Kintamani has three main villages, Penelokan, Batur, and Kintamani.There are also some old Balinese villages around Batur Lake, often referred to as Bali Aga villages. Penelokan is a popular stopover, serving as a vantage point at the southernmost point of the crater rim, offering sweeping views over the Bali volcano.As well as the lake and the volcano, Kintamani is home to Pura Ulun Danu Batur, one of Bali's nine directional temples.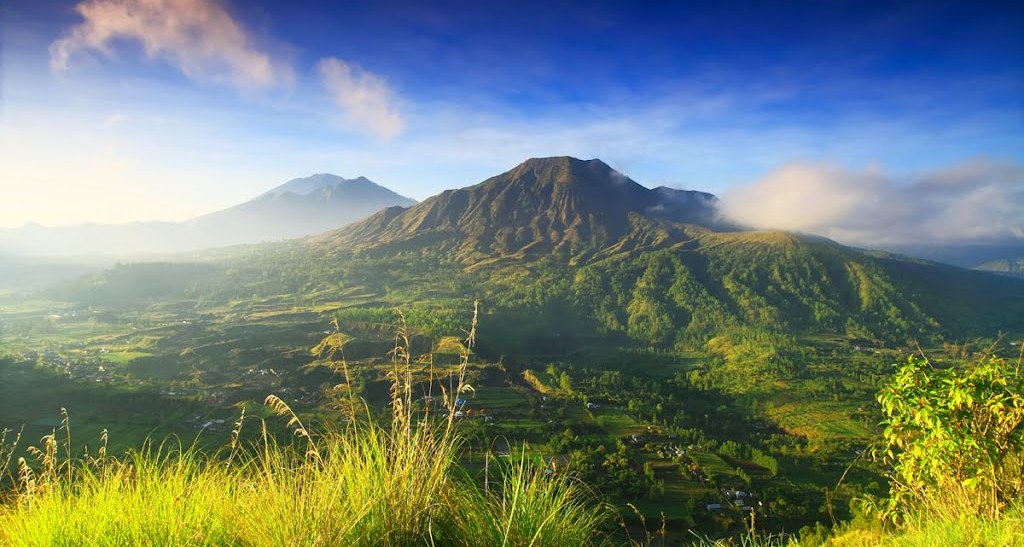 The legend of Mount Batur
There is an ancient legend surrounding the creation of Mount Batur and Lake Batur. In the area of Kintamani lived a giant who was taller than any mountain, his name was Kbo Iwo. This huge giant would help the local villagers to build temples, cut terraces for the hillside rice paddies and dig ditches. In return for his heavy work, the villagers would give him food. As time went on Kbo Iwo's appetite got bigger and bigger until it became difficult for the people to keep him fulfilled. His hunger made him angry and in his rages he would destroy the things that he had helped to create. One year the harvest was poor and there was not enough food to go around. Kbo Iwo became so angry that he destroyed everything he had built, including all of the temples and even the villagers' homes. The people were furious and cooked up a plan to trap Kbo Iwo, they begged him to help them rebuild everything and asked for a giant well to be dug and filled with water. Kbo Iwo did as they asked and dug a huge hole, piling up the soil into a large mound. When he grew tired and fell asleep the villagers poured sticky lime into the hole and filled it with water. Legend has it that underneath Lake Batur lies the sleeping giant and the soil that he dug out of the lake was piled high to form Mount Batur.
Trekking Mount Batur
The whole experience is worth the early morning pick up (and when we say early we mean 1am or 2am!). You set off from your accommodation in the cool pre-dawn morning under a blanket of twinkling stars. After a short briefing you will begin your trek up one of Bali's most sacred mountains. The trek takes about two hours to reach the peak. Once you have arrived at the peak you will be greeted by spectacular views. The sky turns from black, to deep blue to pink and orange and the most spectacular sunrise beholds you. As the light emerges you can see how far you have climbed. You can see village rooftops and the majestic peak of Mount Abang hovering above the clouds and the distant peak of Mount Agung across the valley. You can almost feel Kbo Iwo sigh under the caldera lake below. The guides will show you how to cook eggs from the volcano smoke so you can have a snack and you will have plenty of time to relax and take photos of the amazing scenery before you start your descent to explore the three younger craters and most recent lava flows. If you are lucky you will come across some of the mountain monkeys playing in the trees and on the rocks.
Some top tips for Mount Batur Trekking
Trekking Mount Batur is a wonderful experience, and if you book through a reputable agency you will be provided with professional and experienced guides who know every inch of the mountain. However, it is still very important to be aware of the dangers involved and what you should bring to make your experience as comfortable and fun as possible. First of all, make sure you wear comfortable trekking shoes, if you are not used to walking long distances you will be very grateful for these! You will notice that incredibly, most of the guides are able to trek comfortably in flip flops (and sometimes even bare feet) carrying huge amounts of bags and supplies and they never seem out of breath! Also, bring along a warm jacket as temperatures do drop the higher you go. Secondly, make sure you stay well clear of the volcano's edge and don't get tempted to run or jump at the top! And lastly, do bring along a small snack such as an energy bar or chocolate bar. You will be provided with breakfast as part of the package but you may need a pick me up along the way.
Using an agency to make the most of your once in a life-time experience
For such a special adventure, it is vital that you select the right company to arrange your tour. There are many to choose from so it is important to choose a well established and experienced company. The Seven Holiday have been arranging these types of tours for years and carefully select the best guides to ensure that every guest has the ultimate experience. The Seven Holiday is also able to customise your tour, offering stunning accommodation with a view of Mount Batur and even add ons such as a visit to the hot springs after trekking. Visit Mount Batur trekking package for more information and online booking.